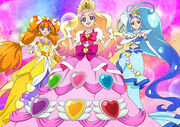 Glitter Force Princess
is a Glitter Force fandub of
Go! Princess Pretty Cure
, a season of the Pretty Cure Franchise, created by IchigoJoker. Glitter Force Princess's themes are princesses and dreams.
Main Characters
Edit
Glitter Force
Edit
Heather Hollins/Glitter Flower: An out going woman who dreams of being a princess. When she was younger, a magical Prince gave her a Glitter Princess Key. Today she attends the Starry Hills Academy in Starwell City. Heather is the leader of a new Glitter Force and her name is Glitter Flower.
Marina Kendall/Glitter Mermaid: Marina is the daugther of a wealthy family who works as the student council's president. Even though she is strict towards others, Marina is not entirely sure about her dream, which is to support her family's company. She is also known as Glitter Mermaid.
Kacey Archer/Glitter Star: Kacey is an ongoing junior model and the daugther of Stella Archer, a well known super model. Kacey is always super busy and hardly has got the time to become friends with the students. She enrolled the Academy to get closer to her dream. She is also known as Glitter Star.
Poppy: Poppy is a dog fairy from Hope Kingdom who desires to become a princess' maid one day. Poppy is Aroma's younger sister and came along with him to earth to find the new Glitter Force.
Aroma Aroma is a bird fairy from Hope Kingdom. He is doing his best to find the Princesses of the Glitter Force and hopes to become Prince Kyle's personal butler one day. He took the Glitter Perfumes to earth in order to fine the new Glitter Force.
Tammy/Shadow Princess
The Unhappy Trio
Starry Hills Academy: A boarding school which Heather, Marina and Kacey attend. It's located on an island.
Starrwell City: A town close to the Starry Hills Academy.
Hope Kingdom: Prince Kyle's homeplace. It is currently ruled by Queen Miseria.